The redevelopment of Furness House, on Leadnhall Street, London, provides four flours of modern open plan office accommodation. For the entrance and communal areas on the Ground floor, ORMS approached Spectral to supply a number of H-Profil ring luminaires. The lighting design specified by Hoare Lee, required very specific up/down lighting levels at different times of the days. To achieve this flexibility, H-Profil 140 was used, with its ability to house high output LED modules in both sections of its H shaped extrusion.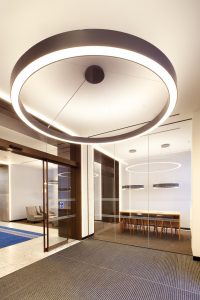 On the underside of the fittings, is a continuous polar white diffuser, perfectly evenly lit by fully replaceable LED modules. In the top half of the profile are more replaceable high output LED modules and the 1-10V dimmable control gear, allowing individual control of up and downlight with a particularly smooth dimming profile.
The luminaire housing is curved extruded aluminium, and at 1m diameter, represents the tightest bend radius yet produced for this versatile product. The body is finished in a stunning metallic bronze  finish using a coating produced by FreiLacke which contains real metallic particles for a depth of colour and sheen unmatched by convention powder coatings.
[sgmb id="1″]