[sgmb id="1″]
How do I feel this evening? 'You're on the motorway and the fuel light comes on. You check your range to empty and gamble on getting to the next fuel stop. You realise that was unwise as you pull into the BP garage with the range showing 'EMPTY'!' That's me this evening!
It rained heavily all night and was still doing so when we made our breakfast (Porridge) at the South Laggan Hostel. Didn't bode well! So we layered up with all our rain gear and went through the rigmarole of filling water bottles, putting lights on, downloading maps to the computer GPS, loading the GoPro, filling the saddle bag with energy bars and checking the  tyre pressures . No sooner had we left than the sun came out and we stopped to decamp all the rain kit! Within a few miles we reached Loch Ness, a vast Lake but a very nice road on its banks. Slightly sinister looking though, hence, I guess, the Nessie mystique?
Then came 'The Drum'!
'The Drum' as it's known (out of the superbly Scottish sounding town of 'Drumnadrochit') is a murderously steep 15% ascent. Not easy after more than 800 miles on the bike I can tell you!
Noticeable today was the lack of cars and trucks on the roads. A blessing as the concentration required to monitor the road for potholes as well as let vehicles pass safely is waning. We have had a few angry drivers over the past ten days but in general drivers are courteous and leave enough gap. We try to group together in small numbers so as not to annoy drivers (I do a lot of driving and know how much of a pain cyclists in large groups can be). One thing we have noticed is where cycle lanes have been made they tend to be covered in stones and debris from trees and are often unusable if you want to avoid punctures.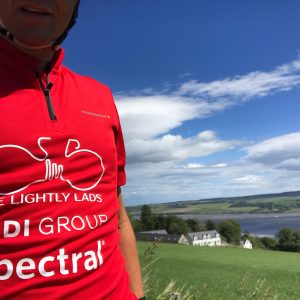 We arrived in Evanton beyond Dingwall overlooking the Cromarty Firth. How on earth I am going to find 105 miles tomorrow in these legs I have no idea!! But you focus on one day as it comes and try to avoid the next day. The routine is continuous and relentless – the Moro for this ride has been EAT SLEEP RIDE REPEAT. Never has a statement been more apt!
We rode today with our Charlie's gift kit on. A fantastic little charity and one that we hope the amasing sponsorship that you have all given will make a real difference for some needy families. Thank you again. It will make a big difference.