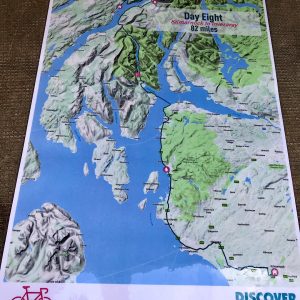 The morning routine is getting slicker. Getting up at 6 and leaving by 7am is a challenge in itself.
[sgmb id="1″]
Taking on sufficient carbohydrates for the day is not as easy as it sounds, especially if you don't feel like having much breakfast.
I have usb lights, GoPro, iPhone, Garmin bike computer and usb charger to charge each night. We also scrutinise the daily route and height gain charts to  plan for the day. Our legs are getting very tired now and we need to conserve as much energy as possible. One way we achieve this is to 'draft' one another – this is where   You ride really close to the rider in front and benefit from the slip stream. The other is using a higher cadence on the hills. My legs are wishing I would take up chess!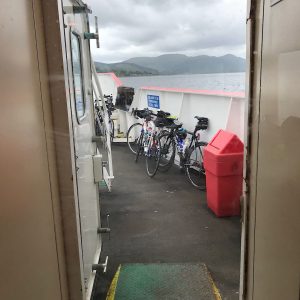 Today we left the excellent Park hotel in Kilmarnock and headed straight into a strong head wind for the first 20 Miles before getting to the west coast and turned north – the wind was now to our left so we had to be careful of blustery side winds. Seeing the coast was a lift though and we got to Dunoon ferry after circa 40 miles. This is not a cheat but took us over the causeway to the Trossach national park for the next leg of the riding. We lunched in a wood carvers shed in the Benmore botanical gardens which was unique but the Miges were out in force so we left as soon as we could. It's amasing how in contrast to yesterday  the scenery can change your whole mental journey attitude to a ride. We are tired and the risk of cramping and muscle injury are now acute. But riding in this landscape erodes the fears.
Riding along the length of Loch Eck (no really!) was superb. Little traffic and the views and spectacle of the surrounding mountains was worth suffering for.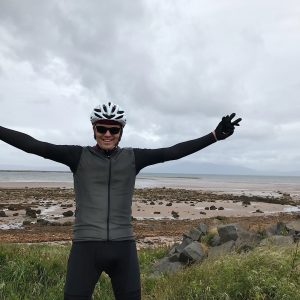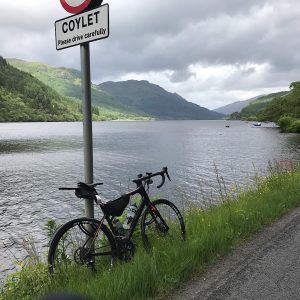 On Thursday we will ride the length of Loch Ness but there is some myth flying about that there could be a monster in Loch Fyne where we stay tonight. Rubbish I say! All nonsense….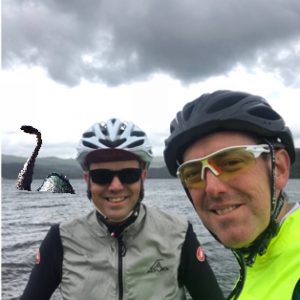 Finally, WE GET A LEG MASSAGE THIS EVENING! Be under no illusion – I need one! Tired, weary, optimistic though and still in the game. I will sleep well this evening.
We are going to get wet tomorrow though ….