[sgmb id="1″]
Today is a very long day covering 105 miles taking us from Bristol to Shrewsbury.  We also gain higher steadily through the whole day with most of the climbing happy at the latter part of the day.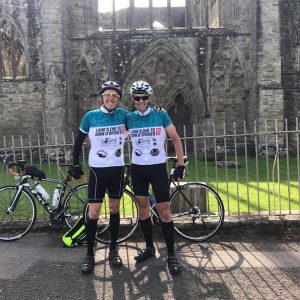 Within the first 10 miles it seemed pretty amazing crossing the seven bridge into Wales.   The scenery got more and more spectacular as the morning went on highlighted by Tinton Abbey where we stopped for a break.  One of the benefits of burning in excess of 4000 cal a day is that you can eat as much as you like! Aka – cake is your friend!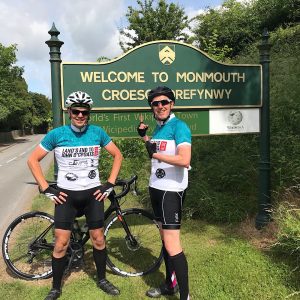 From the abbey that Henry VIII pillaged during his reign the scenery continued and we were blessed with near perfect weather and no hard wind. Clearly they pay higher taxes on this county as the roads were glass smooth and impeccable – it's amazing the difference in road quality as you pass from county to county. One of the perils of cycling is poor road quality.  Another is impatient drivers – we have encountered quite a few rage incidents and were spooked on the first day as one of the riders was physically knocked off his bike and hospitalised. Incredibly he got back on the bike the next morning and is now something of a hero to many on the ride.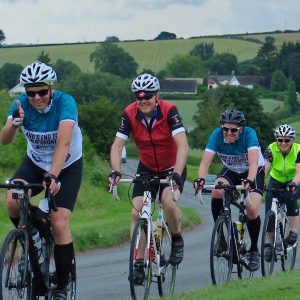 My brother joined us at Hereford. Great to see him. He became official photographer for the day. We stopped for an amazing lunch at a home cooked food cafe and devoured Lasagne like we had never eaten.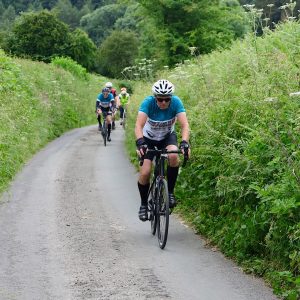 Then came the climbs at the part of the day we were becoming knackered! The reward was a stella 360' view of Shropshire overlooking our destination in Shrewsbury.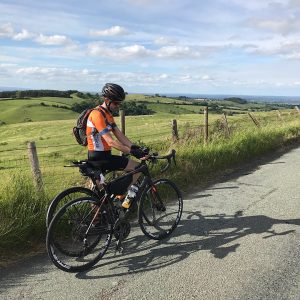 We were greeted by Liz Peck of LPA Lighting and Eve Gaut of Parrott PR + Marketing who had put on a welcoming committee for our arrival. Incredibly thoughtful. Liz then announced and presented a cheque for the full corporate sponsorship amount from LIghting Industry Association. Absolutely incredible taking the to date sponsoship to a quite unbelievable 23k! What an amazing way to finish a gruelling but rewarding eight hours in the saddle!