Daily route markers taped to the top tube of the bike frame;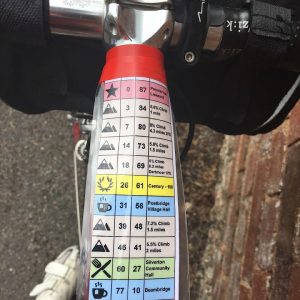 Out of Cornwall and I to Devon;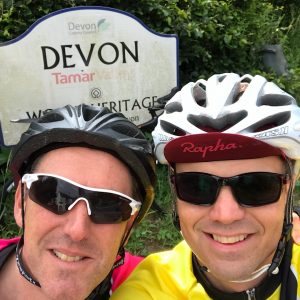 The camaraderie amongst the whole group is great.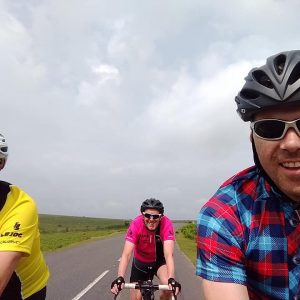 We left Liskeard in Cornwall slightly apprehensive at the prospect of 87 miles and nearly 8000 feet of climbing to get us to Taunton in Somerset (nearly twice the height of Ben Nevis). Gulp!
To fuel the climb over Dartmoor (over six miles with an average of 9% gradient) we stopped for coffee and cake in Tavistock before crossing into Devon (one bonus of consuming over 4000 calories a day is eating cake without any guilt!). This proved wise as Dartmoor is a big lump it transpires! The views at the top were superb and the decent was exhilarating as we topped 50 mph at one stage.
Then came the seemingly endless shorther but no less challenging climbs, one after the other until we finally arrived in Exeter on empty. We had ten miles to go for our lunch stop (provided by Discover Adventure  who the trip is organised by). Never has a bowl of cold tuna pasta tasted so good!
One of the great outcomes of doing these tours is meeting like minded nutters and the camaraderie that goes with it. There is an eclectic bunch from Vets, Lorry drivers, IT managers, engineers but the one that takes the prize is a retail spy. No really!
Day 2 stats…
Distance = 87.3 miles
Feet climbed = 8,127
Max Speed now = 49.7mph –
Moving time = 5 hours 58mins and 53secs
Cumulative Stats…
Distance = 161.7 miles
Feet climbed = 14,752 feet
Average speed =. 14.82 mph
Moving time = 10 hours 54 mins and 28 secs
Now going to bed!!!