Chandeliers that others look up to.
An elegant concept that offers endless possibilities for both commercial and larger public spaces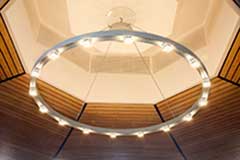 Curves with a radius as tight as
0.6 m can be used and a range of high power LED modules give
H-Profil the design flexibility to flatter both contemporary and traditional interiors.
Our bespoke service means you can form it and shape it to your project.